Taiji with Master Sam Tam – August 2015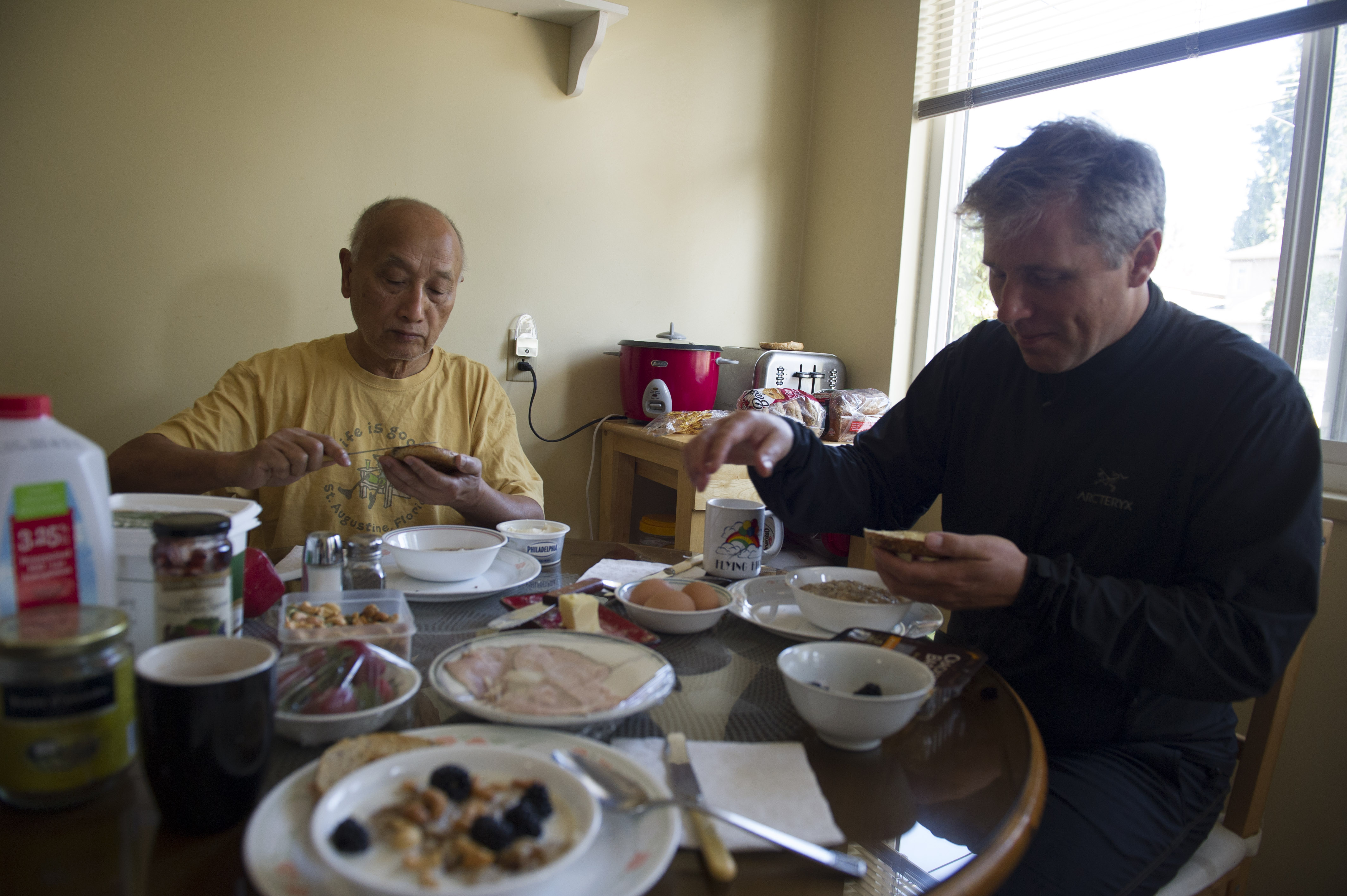 For the last week I have stayed and practiced taiji with Master Sam Tam in Vancouver, Canada. Sam has been the "Sifu" of my Danish teacher Torben Bremann for about 10 years and before this trip I had only met him at a few workshops in Copenhagen. I have practiced taiji in the system of Master Sam Tam for around 6 years myself guided by Torben.
It has been quite a privilege to get more "hands on" experience with Master Tam. He has the ability to clearly and effortlessly to demonstrate what yielding, neutralizing and issuing is all about and embody the taiji principles like no one else I have met.
Sam is good. Very good. When pushing hands with him you never feel him using force of any kind – there is no resistance from his side when you push him, he just moves with whatever comes at him, but without collapsing, using whatever movement you make to get you out of balance. He has an amazing sensitivity and can explain in great detail (greater detail than what I am usually aware of myself) what your body is doing and he is happy to let you feel both his yielding and issuing ability.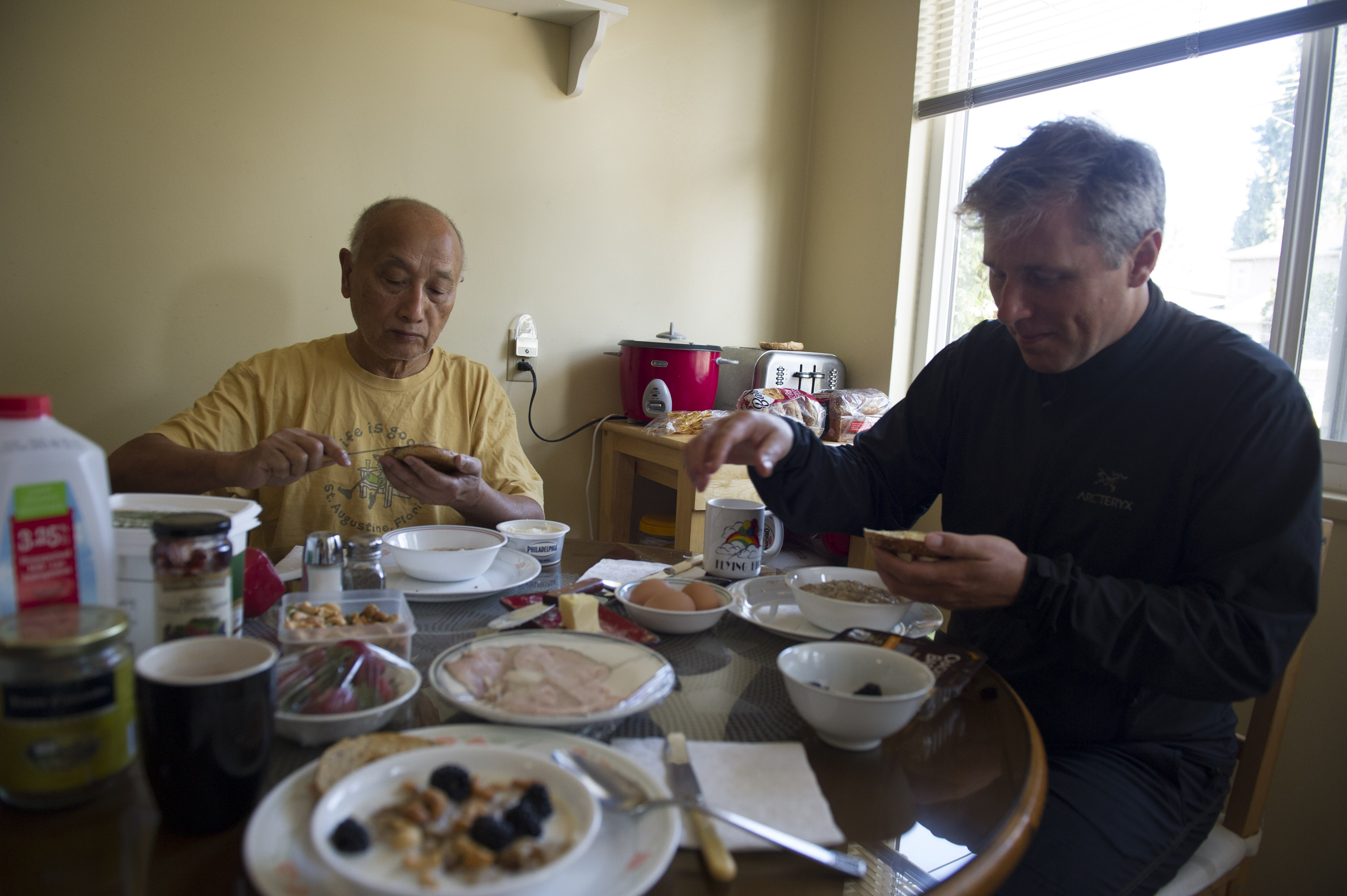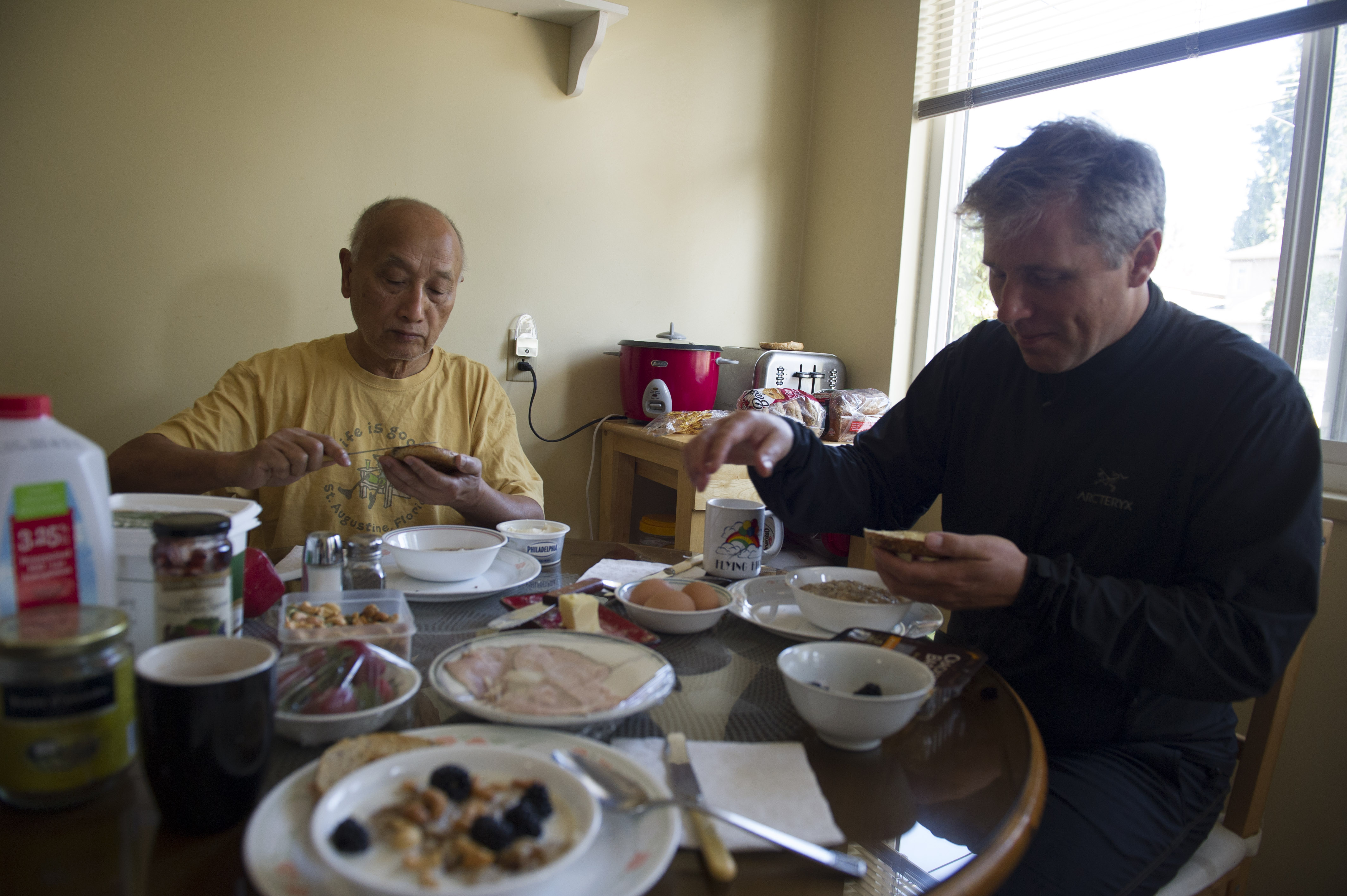 The practice takes place in the basement of Sams home in Vancouver, which is simply furnished with what you need for taiji practice – basically empty floor space and a mattress on the wall for bouncing practice. Taiji sticks, swords, fans and other practice weapons lie strewn around the space that has a tea kitchen in one end and a couple of computers in the other. Sams house seems to be a bustling hub for taiji practitioners from all over the world. Several people came by the house during my stay and there was always someone new to practice with.
My experience
When I arrived Sam asked me what I wanted to practice while I was staying with him. After answering something rather incoherent I said something about improving my yielding and that is what we have mostly been working on. I have practiced the taiji form, done a bit of standing meditation, some mokabu and a lot of bouncing exercises and pushing hands.
Practicing form with Sam is a very giving experience. Apart from the fact that he himself can show how everything should look, he is very attentive and can demonstrate why it is supposed to look as it does. When teaching Sam will repeatedly demonstrate the practice by letting you touch him, which often results in you lying on the floor or thrown against the wall after a few seconds. But he also has the extraordinary ability to slow down to a pace where you can actually follow what is going on and notice every slight movement made, allowing you to become aware of still more imbalances and tensions.
After instructing us to practice on our own, Sam would do chores around the house, fiddle with his computers or just sit and watch in silence. Several times during my stay I was surprised by how aware he was of what was going on, even though he was doing something else.
– While I am practicing the form walking past me with the laundry basket he points out that the angle on my front hand in the single whip should be more than 90 degrees and quickly demonstrates how easy it is to push me if the angle is wrong.
– Or when he steps into the middle of me doing the form to very powerfully demonstrate why the back hand in single whip should be around a fist above shoulder height (so that you can hit the throat of the opponent, and then grab the collarbone).
I mentioned earlier on that Sam is good. Well he is. But to be honest his level exceeds my understanding as I feel completely defenseless when I am in his hands – and he only rarely opens up the bag to show his fighting skills. Most of the time we practice his taiji form, bouncing or pushing hands exercises, but once in a while he will demonstrate applications or just reveal a little bit of his fighting skill – and when he does, the experiences is that he could kill you in seconds if he wanted to.
"You are the mouse and I am the cat. How can you win? You need to transform yourself into a cat as I am telling you and maybe you can do something. You can gather 100 mice and throw a conference, and still you couldn't do anything." (Sam Tam)
Sam't taiji philosophy is undogmatic. People have different bodies and different strengths and weaknesses and thus cannot perform taiji in the same way. Rather he refers to "the happy medium", the personal place of comfort you can find while following the taiji principles.
Very patiently he repeats again and again that you should not react (reaction is something you do after the fact), but rather respond to whatever is coming at you and that the only way you can do this is to have no intention or idea of what you are going to do, but rather follow and yield. If you try to use technique or have a premeditated idea of what you are going to do, you will not be able to cope with change in the situation. My conceptualization is that Sam responds to what is actually there (in reality), rather than assuming that something is going on.
More than just a martial art
I was positively surprised about how much Sam focuses on the connection between your general being and behavior and the taiji practice. I had a lovely time chatting with Sam about politics, philosophy and life in general and really enjoyed his honest and firm approach to everything around him.
Taiji is about confronting the problem without confrontation. Many people tend to go for confrontation without confronting the problem. (Sam Tam)
Sam is also very focused on communicating the inner aspects of taiji (or "inner martial art" in general). Control in taiji is not about controlling the enemy, but about controlling yourself. You don't want to do anything towards the other. You just follow and fill out the space that he is leaving, so that he has no exits.
Ironing out my bad habits
Sams teaching entails a lot of time spent "ironing out" the mistakes and bad habits of his students. His attempt is to not just deliver information to his students, but to actually allow them to learn and gain embodied knowledge.
We generally have a tendency of seeing other people's mistakes while being blind to their own. If you can start to see your own mistakes more clearly you will learn more, so below are some of my notes on what to work with and improve in my own practice.
When pushing hands and bouncing
Sam defines yielding as "not allowing the opponent to lean on you". To achieve this you cannot use force as that will give your opponent a "handle", but neither "run away from the force" of the opponent and allow him to find your center of gravity. This balancing act is excruciatingly hard to perform in practice. I have a tendency of yielding "halfway" (to the place where I feel safe) instead of going until the end of the push. This habit is part of the reason that I often find myself in situations where the second attack is impossible to respond to.
Don't do anything against the opponents will when you start to yield. Give him what he wants without giving him your center to push on. Don't think or try to get your opponent and yield without the intent of getting his center – that will happen by itself. If you commit by having intention in your movement, it means that you have already lost. Intentional movement = force.
Let the whole body move when you yield – don't isolate the arms. Always yield where there is more force. If the force is equal between the hands, yield the place closest to the body.
Another central point is that you don't move by your own accord when yielding – only if your opponent moves. Personally I have a horrible tendency to start guessing what my practice partner will be doing next and move accordingly. This works in many cases, but while touching Sam and some of his other students I quickly realized that it was a dead end street, however hard it will be to let go of the habit.
Other points
– I should remember to keep my chin down when pushed backward, otherwise I have no chance to stay balanced.
– I have had a tendency to use my thumbs to push towards the ribcage of my practice partner. Sam thoroughly demonstrated why this was a bad idea.
– I have a tendency to collapse and thus allowing my practice partner to get me. Collapsing implies allowing the opponent to enter your circle, so a project for me is to keep my frame when pushing hands.
– I have a tendency of pushing down, where it would make sense to go more upward.
– I have a tendency of leaning forward with my upper body, both when I am receiving a push and when I am delivering it. If I keep straight my sensibility will improve.
– When pushing use the whole body and aim for a feeling of fullness. Keep the sensation of wholeness while practicing the form.
– Don't retreat.
When doing the form
Sam keeps emphasizing that the form is about learning how to "sink the chi and shift the weight", but for me there are other central points that should be remembered. A central sensation that I am taking with me is the idea that I should have fighting power in (and between) every position in the form. Otherwise I am not doing it right. This one is going to take a while to work through.
There is a subtle difference between focusing on the movements of the form and keeping awareness on the form practice. The first will lead to divided attention, while the second is a catalyst for flow. Sam would also express it as letting the chi move you rather than thinking about the movements.
Other points
– I have a tendency of looking down while I do the form which makes it harder for me to balance and according to Sam also generally weakens my movement.
– Remember to have a lot of airtime in the form to practice sinking, but also to give power to the legs and feet in the form.
– Lots and lots of corrections to specific movements that I won't try to reference here.
Until next time
It has been truly great to experience a taiji master in action in this way and I feel that I have learned a lot. I hope that I will have the opportunity to study more under the guidance of Master Tam in the future, but for now I am looking forward to come back to Copenhagen and practice with Torben to see if I have actually improved.