Lindängens Riksinternat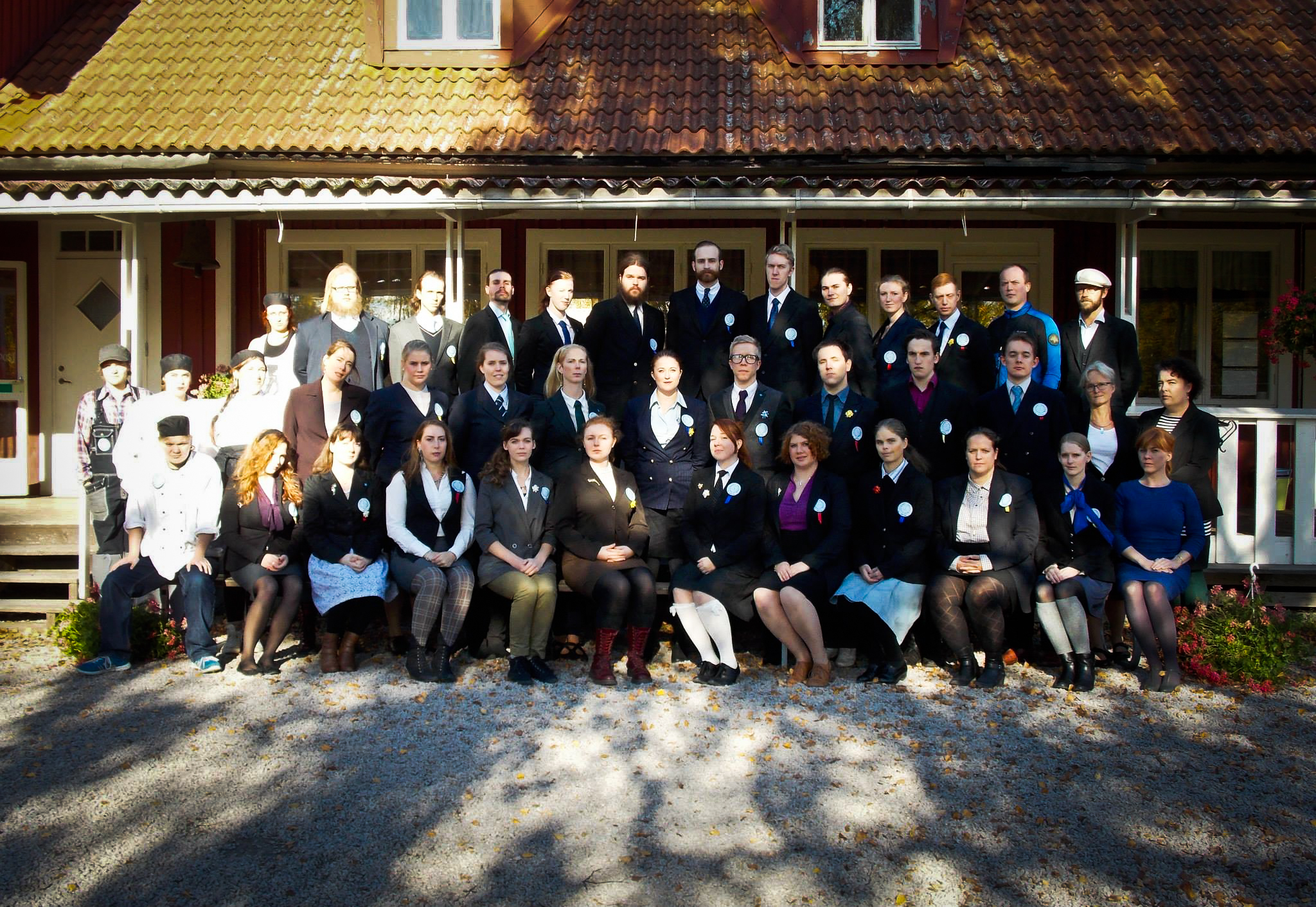 "The surest way to corrupt a youth is to instruct him to hold in higher esteem those who think alike than those who think differently."
― Friedrich Nietzsche

The Larp
Lindängens Riksinternat was a larp set in a fictional upper-class boarding school inspired by the book "Evil" by Jan Guillou and dealt with themes as school life, bullying and punishment. However the larp was closely connected to real events at boarding schools in Sweden. In particular the scandal at Lundsberg, where an introduction ritual gone wrong reached the media and spawned an investigation of the whole school structure and tradition.
……………………………………………………………………………………………………………………………………………………
"…the idea for the larp is constructed from what has been written about the three boarding schools in Sveden, from fiction, media reports and police reports that has been presented in media. The general picture is about systematical suppression of students, both from other students, teachers and other personnel. There is talk about students who are violated. There is talk about students who are degraded and does not feel safe at their school and in their rooms. And the students themselves? At official interviews they say that it is all just for fun. That sure there is rituals to create cohesion, but that no one is bothered by them. And that the nicknames and mockery is just for fun. It is hard to say what is truth, headlines or direct lies.
The students at Lindängens Riksinternat will experience the same things as students at the real boarding schools. Of anyone asks them for an official statement they will also defend their school. Because outsiders cant really understand. Tradition is there to be followed."
– from the homepage of the larp (my translation)
……………………………………………………………………………………………………………………………………………………
The larp took place from the 16th to 20th of October in Blekinge, Sweden and around 40 people participated. Apart from the players at the setting, the organizers had introduced texting larpers, who participated through text messages from parents, friends or lovers that were not physically at the school.
Some of the central questions that the larp in my opinion asked was:
– how is this kind of environment experienced from the inside?
– what happens to young people, who receives this sort of treatment?
– what happens to society, when these "elite" students goes on to prestigious jobs and positions of power?
Workshops
All players at the larp participated at a co-creative workshop around a month before the larp, where the organizers introduced us to their vision, we designed the culture at the school, created our characters and their relationships to each other. We were divided into group of 1st, 2nd and 3rd year students and a separate group of teachers and school personnel. At the workshop we also designed and rehearsed the rules at the school, such as how to act in the classroom or at dinner, and the punishments we were to expect if these were not followed.
We were also introduced to "shadowing", a meta-technique for the larp where the teachers and personnel at the school could choose to dress in black, don a mask and play shadows. They would then interact with the other players at at meta level, talking about their emotional life or even pushing them to act differently in specific scenes.
The Experience
Lindängens Riksinternat was played as three more or less ordinary days at the school. The teachers had decided that the school were having a theme week about "relations" to make the classes a bit more interesting to larp and on friday night there was a party for the whole school. The focus of the larp for most students revolved around the power games that were constantly played and the enormous pressure to comply to the norms and traditions of the school.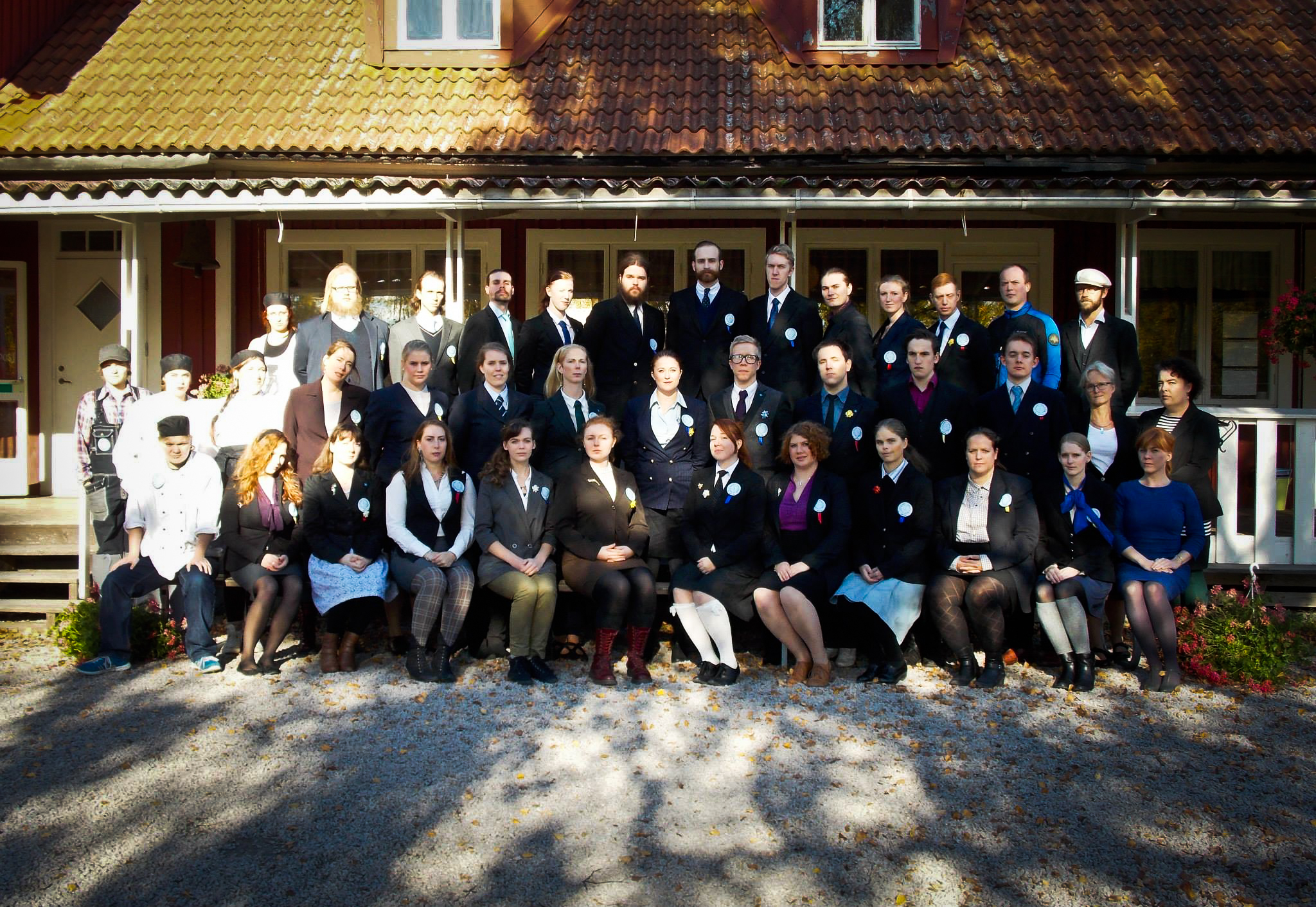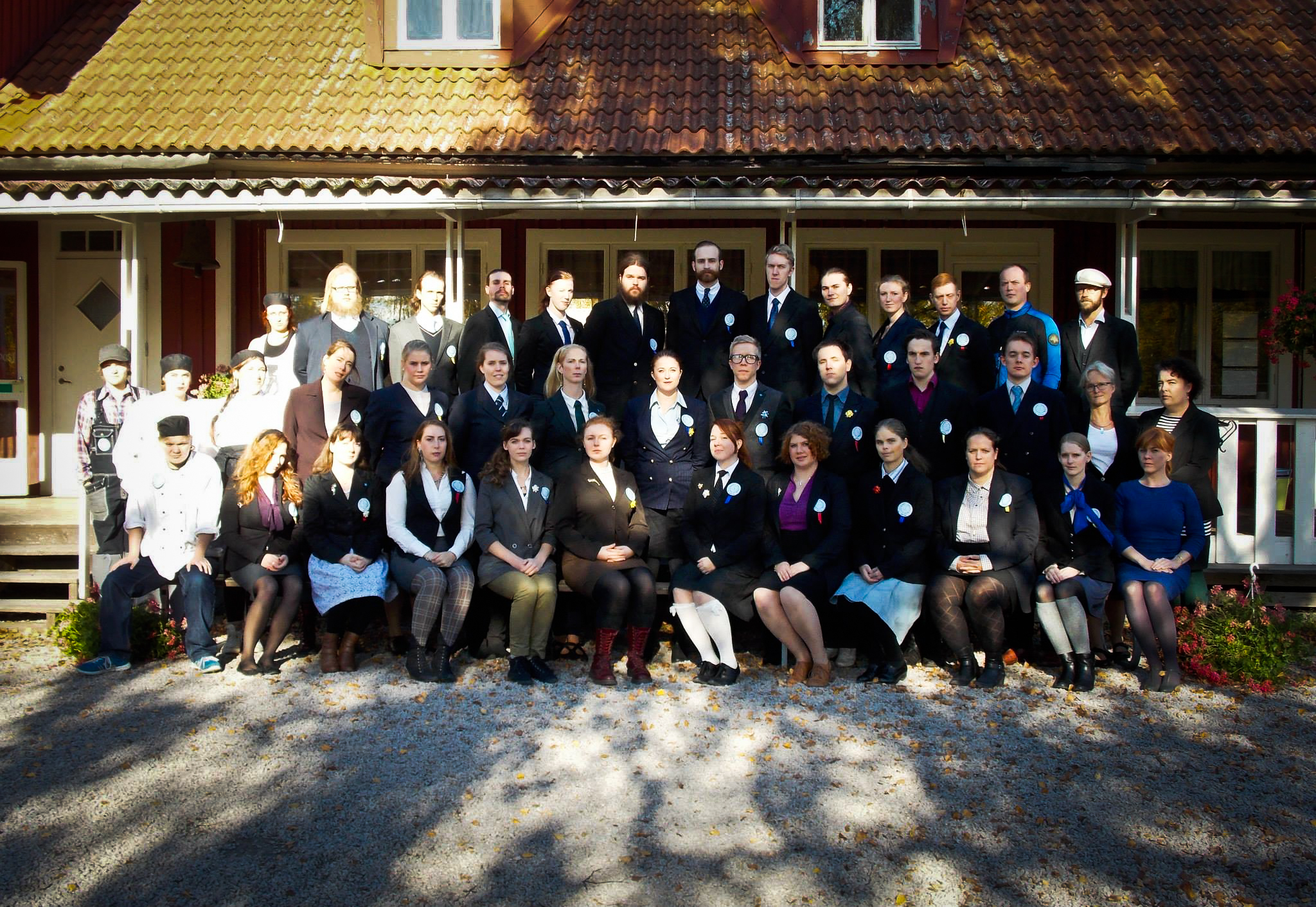 I played Christer Von Lünow, the schools psychology and philosophy teacher. He had started teaching at the school around 8 years before the events, that we played out in the larp, and was at his arrival an enthusiastic teacher with a lot of alternative teaching methods and a genuine wish to teach these privileged children something about free thinking and self development. However his time at the school had only led to disillusion, bitterness and alcoholism as he kept failing in connecting to the students and at the start of the larp he genuinely hated being there, while having no other place to go.
In his classes, Christer were still using the same arguments and methods that he came with all those years ago – only slightly distorted. Speaking of freedom and individualism and empowerment, while supporting or at best ignoring the status games of the students. The classes was designed to create winners and losers, but also to force the students to be honest with themselves and others. Students would call him "Von Lunatic" or the "psycho teacher", probably because of his uncontroversial teaching methods where he hit the students or forced them to exact punishment on each other.
……………………………………………………………………………………………………………………………………………………
"He spoke of very simple things- that it is right for a gull to fly, that freedom is the very nature of his being, that whatever stands against that freedom must be set aside, be it ritual or superstition or limitation in any form.

"Set aside," came a voice from the multitude, "even if it be the Law of the Flock?"

"The only true law is that which leads to freedom," Jonathan said. "There is no other."
― Richard Bach, Jonathan Livingston Seagull
……………………………………………………………………………………………………………………………………………………
At one of the classes on Friday I told the students to do a five minute writing assignment on themselves, where they were supposed to be completely honest, and afterwards to read it aloud in the class. The other students would then vote if they thought the description was honest or not and if not, the writer would receive a slap from the teacher (or a designated student). In this particular class almost everyone got slapped. However, the last one to stand was Pernilla, a high status 3rd year student. She the folded her assignment as she spoke about how good a student she was, how nice she was and how everybody loved her and did what she said – and then all the hands went into the air.
Most students disliked Christers classes as you never knew what to expect, but a few really to his teachings to heart – in particular one person. Henric, a 1st year student, generally disliked by the others because of his antisocial behavior often came to Christer for advice and befriended him with his interested questions about the nature of freedom. Henric even came by his room once in a while to talk about his problems – something that only few others dared.
……………………………………………………………………………………………………………………………………………………
"I remember Christer very well. He was the best teacher I have ever had. With Christer I thought that I could become free. He gave me the hope that I could become another Henric than the one my parents demanded of me. Gave me wings, excactly as in the book he gave me when the police took him away. For me he was like the dad I did not have at home, the one who inspired me and made me believe in myself."
– Henric Grip (Lindängen student – my translation)
……………………………………………………………………………………………………………………………………………………
Apart from those very few students Christer was a extremely lonely. When he entered a room of students they would fall silent or change their conversation and only a rare few would dare talk to him at all outside of class. After the larp I discussed with another player how this horrible position of power creates an atmosphere where you start hurting people, just to get some kind of reaction from them – just to get them to recognize that you exist.
The teaching staff of Lindängen consisted of four teachers and a psychology adviser, two of which were former student at the school and had close relations to the students, parents and traditions. The main (and maybe only) agreement of the teachers were that they would not interfere with each others classes as the teaching methods were sacred. We would of course have meetings, where we discussed any problems with students or in general at the school, but the common solution was to ask the student council or the 3rd year students to deal with the problem.
……………………………………………………………………………………………………………………………………………………
"The teachers of Lindängen is at a meeting and the athmosphere is cold as ice. Christer, the psychology teacher and the schools oldest teacher except from the psychological adviser, sits lost in his own thoughts. He has been that way of late, his commitment to the school was lost a long time ago. He has stopped caring about almost everything, instead he unembarrassed takes a sip of whisky. The other teachers pretend not to see and focuses on their coffee cups.
Lena, the Swedish teacher, complains that the students doesn't seem to listen properly at her lessons. The others listens halfheartedly. They all know how it is, but wont admit it. The psychological adviser, Ingegärd, and the social science teacher Vendela thinks that Lena is exaggerating and a conflict threatens to arise, the atmosphere gets even colder. But precisely before a real confrontation arises I comment "what lovely buns, huh guys?" As hungry dogs the others throw themselves at the opening. The conflict is called off and the mood is superficially warmhearted. Again."
– Frederik Ståhl (Lindängen teacher – my translation)
……………………………………………………………………………………………………………………………………………………
Relationship to a students
My larp began late at night Wednesday, with a pre-planned scene where Pernilla, a female student (one of the two 3rd year girls who ruled the school) entered the room and successfully seduced Christer. They slept together and on Thursday morning, she rushed to her own room before the others awoke. After that it was all longing looks in the classes, hidden letters, touches in hallways and text messages. He went out from his classes to watch her gym lessons, she skipped lessons when he was not teaching to surprise him in his room and everything went well until the party on Friday. A drunk and sad Pernilla demanded attention at the worst possible time because she had been blackmailed by Henric, who had seen them together the day before. Christer ended up letting Pernilla sleep in his bed, and later threatening Henric that he would be thrown out of school if this came any further.
……………………………………………………………………………………………………………………………………………………
They are in his bed. His toes are cold, but it is ok. She notices his heartbeats against her back. They embrace in the darkness and she finally feels safe.
"I love you"
He inhales deeply. trembling even.
"I love you too"
– Pernilla Winter (Lindängen student – my translation)
……………………………………………………………………………………………………………………………………………………
On saturday morning Pernilla, fearing that the affair would ruin her status at the school, went to the psychological adviser and told her that she had been drugged and sexually abused by Christer and with that the relationship turned from love to hatred. Knowing the school and the massive problems which would occur if this went public, Christer spent the day convincing students and teachers alike that it would be best for everyone if this never happened and felt relatively safe that "we will do as we have always done".
……………………………………………………………………………………………………………………………………………………
"A student, Pernilla, who did so well in all lessons has reported that she has been drugged and sexually abused by a teacher. How inconvenient. Off course it is Christer. We discuss what is right to do intensively. Only the psychological adviser wholeheartedly thinks that we should support her. In the ends she backs down. We decide to try to handle it discreetly. It would be embarrassing and troublesome with bad publicity as we have just had a visiting news-reporter. And it is a bit to unpleasant to think, that a teacher should have done anything like that to a student. Luckily it is not true, I have decided to believe that.
Pernillas dad agrees that this should be handled quietly. Publicity would be scandalous for the family."
– Frederik Ståhl (Lindängen teacher – my translation)
……………………………………………………………………………………………………………………………………………………
In the end Pernilla told her story to the police against the will of the teachers, her friends at the school and her parents who all tried to convince her that she should take it back. My larp ended as Christer was driven away in a police car to an uncertain destiny after handing "Jonathan Livingstone Seagull" to Henric, the only remaining friend.
Post Larp
Being a rough larp psycologically and to a certain degree physically, the players were very emotional afterwards. There was a lot of crying at the debrief and at the afterparty and even the day after many players were clearly marked by the experience. On facebook, in the group created specifically for evaluating the larp, many players expressed that they were surprised about their emotional state post-larp.
……………………………………………………………………………………………………………………………………………………
"I awake crying. I know that I dreamt about Lindängen, about you, some of you, but I don't remember what"
– Lindängen player
……………………………………………………………………………………………………………………………………………………
"I thought yesterday, that the larp left me rather untouched. I didn't understand why you were crying so much and even felt a little outside…but when i came home in the end, to a cold and lonely apartment…and all the necessities are done it hits me like a hammer in the stomach. So much frustration and anger, so much that i don't know where to go. Why the hell do we do this kinda stuff to ourselves?"
– Lindängen player
……………………………………………………………………………………………………………………………………………………
Larp organizers often put a great deal of effort into the "debrief" or "aftercare" for the larp. In this larp we had a debrief-guide where we interviewed each other about the experience and presented the opportunity to write letters to our characters and so on, but more importantly we stayed at location for an extra day and had a party at night.
Evaluation
Lindängens Riksinternat for me was a great larp design and a great experience. The organizers presented the experience clearly at the homepage and communicated what they were expecting of the players and how they wanted the larp to be played at the workshop. The larp itself ran without problems for 2½ consecutive days with no breaks or stops and all players (as far as i know) were actively playing out their own personal stories within the framework. The texting participants contributed much to the larp and for me seems to be a highly interesting tool for future larp projects in contemporary settings. The shadows were also integrated well into the larp and you practically didnt notice the black-clad people in the room unless they were playing actively with you.
The main themes of the larp revolved around peer pressure, traditions and status games – issues that are relevant in most aspects of life. In particular to those of us with an interest in teaching. However, I think what hit me as a player the most was the silence. The whole of the situation was underplayed to a degree where right and wrong did not matter anymore – only your own position and future perspectives was important.
Lindängen is definetly one of the better larps I have participated in. Comparable only to larps as Just a little lovin, Den hvide krig and Brudpris both design wise and in the actual play experience. I predict that we will see more productions of Lindängen in the future and would recommend everyone with an interest in the psychology of schools and group dynamics to sign up.